With an extensive team, we offer incredible Geospatial annotation services that align with span creation and mapping services for different companies and organisations. Our exclusive Geospatial annotation services are aligned with a wide usage across options including ride-hailing, 3D analysis, navigation apps, risk analysis, autonomous cars, location analytics, and much more. We deliver these services with a combination of automation and AI-ML enabled tools. Our team promotes extensive accuracy along with fast-paced market functions.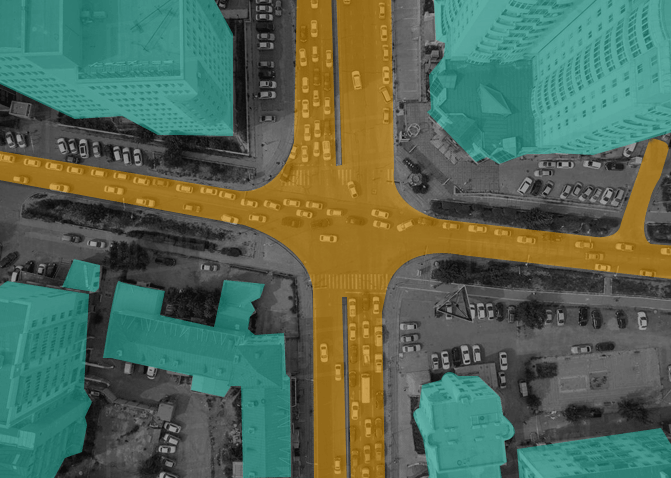 The term "geospatial data" reflects all sorts of phenomena and data on objects across the globe. These phenomena are associated with varying spatial characteristics depending upon certain location prevalent on the surface of the earth. Our Geospatial annotation service is depicted in the style of storytelling that captivates all the audiences. As images are quite intriguing, they can represent a lot more than words.
Annotation in Maps:
Our Geospatial annotation services use the images of maps to transform the state of data visualization. We equip annotations within the map to help businesses attain extensive aids and better scalability. Our team develops geographic models through remote sensing technologies. These include drone imagery, satellite, aerial that collects as well as produces training data to apply on computer vision models through machine learning technology.
Geospatial Annotation For Drone Imagery & Aerial View Images:
Geospatial annotation services are critical to performing drone-imagery and aerial view annotations, semantic segmentation and bounding box. We are the profound providers of extensive data annotation services that further enlivens your transforming algorithms. Some of the significant aspects of our Geospatial annotations include,
Extensive Accuracy: Our annotators are highly professional and knowledgeable, hence they get high-class accuracy.
Profound Safety: Maintaining extensive security standards allows us to assure absolute confidentiality.
Affordability: Our geospatial annotation services are perfectly priced at the most cost-effective prices.
Scalable & Manageable: We keep your requirements on top of our priority list and hence we deliver annotation services with exclusive scalability and manageability as per your requirement.
Geospatial Annotation Process
Geospatial data incorporates a critical section of existing data that is highly crucial for the process of decision making and planning in the business. It is quite necessary for some of the specific business domains like agriculture and emergency management. Although, the direct use of geospatial data would be difficult and time-consuming. Hence, our Geospatial annotation allows you to interpret the data further producing new information. Such information is usually enclosed in extra files.
Our Geospatial annotation service acquires data from a wide range of technologies including location sensors, GPS, mobile devices, social media and satellite imagery. The data acquired from all these technologies and sources is then used to create data visualizations to determine trends and phenomena under complicated relationships within places and people. Geospatial annotation is quite versatile as the data applies to anything prevalent on earth. Such visualizations are suitable for cartograms, maps, statistics and graphs that present drifts and historical evolutions. It's one of the most suitable tools for predictions.
Why Choose Annotation Support?
The annotation services in the geospatial reference are used to determine user-generated information including comments, remarks and findings along with other information acquired from the real surroundings. We offer such exclusive geospatial annotation services that are accurately modelled, secured and even visualized through precise data collection, production and annotation.
Being referred to in spatial terms, the creation of the context is suited for all the activities prevalent on the earth. Our experts attain an extra edge as most of the existing models of annotations do not completely align with spatial contexts and hence do not unveil the required spatial relationships linked with annotations. Our model is perfectly designed to help your business take complete advantage of geospatial annotations in your business.