Bounding Box Annotation Service enables the detection of an object in a precise manner through computer vision. It is used to train the machine learning models and AI in calculating the attributes easily. It is the most common and widely used annotation technique for machine learning models. A bounding box is drawn by the annotators over an object and is then labelled. It is generally drawn tight, and no loose ends are left. Bounding box annotation is a time-intensive and cumbersome task, but it is very essential for building any machine learning models, including autonomous vehicles, image recognition or face recognition systems.
Bounding Boxes For Object Detection In AI Enabled Cars:
Bounding Box Annotation is a mechanism that can train all the AI-enabled autonomous vehicles to detect the various objects that are present on the street, including traffic, potholes, lanes and signals, by creating training data. This bounding box annotation technique is especially beneficial for the drivers enabling them to recognize and understand their surrounding all the objects with their approximate distance.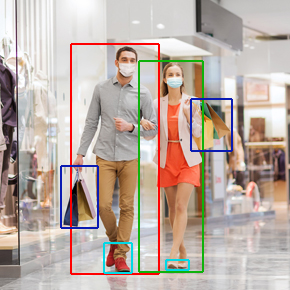 Damage Detection For Insurance claims:
Bounding box deep learning technique enables one to detect the vehicles that are damaged in an accident. By employing the bounding box annotation technique, one can easily identify the damaged vehicle body, lights, roof, broken glasses, dented bonnet and various other accessories. It enables one to estimate the correct extent of damage so that appropriate insurance claims can be made.
Bounding Boxes For Image Tagging In Retail & E-commerce:
Bounding box Annotation is also helpful for the fashion industries as they visualize the items that are sold at online stores. It highlights the fashion and clothing accessories with automatic tagging to make them visible and easily accessible for visual search. It also helps in annotating the goods and detecting the items like fashion accessories and furniture that are to be picked from the shelf for automatic billing in retail shops. Bounding box annotation is used to detect different objects from the most complex images to enhance the visual search ability of the model.
Why Annotation Support for Bounding Box Annotation?
We at annotation support employ advanced tools and techniques in order to provide a fine-quality bounding box annotation solution. Some of the features that set us apart from various other Bounding Box services:
Quality with Accuracy: We at Annotation Support avail you of the best-in-class quality services while attaining the next level of accuracy. We tend to deliver excellent bounding box annotation employing multiple stages of reviewing and auditing of labelled data.
Security with Privacy: Annotation Support is certified for maintaining the highest standards of data privacy and security. We ensure the confidentiality of all our clients.
Fully Scalable Service: Our team of highly skilled and experienced workers tend to annotate the image according to the demand of the clients. All the needs are met by us within the timeframe, hence enabling a completely scalable solution.
Cost-effective Pricing: We offer our clients the most affordable bounding box annotation service to help them get the best solution while aligning with the budget.
All in all, the use of world-class technologies enables us to mark the image in a precise and accurate manner at a competitive price. The bounding box models created by us cater to the interest of the clients. We try to meet all your needs at much affordable prices and within the stipulated price. Availing of our services can get you a lifetime experience.