3D LiDar annotation (Light Detection and Ranging), also known as point cloud labelling, uses a very high-precision labelling tool to enable you to label, visualize and track the object across frames in 3D point clouds for all types of LiDARs. Autonomous vehicles, drones, agriculture tech, maps and many other devices use this technology.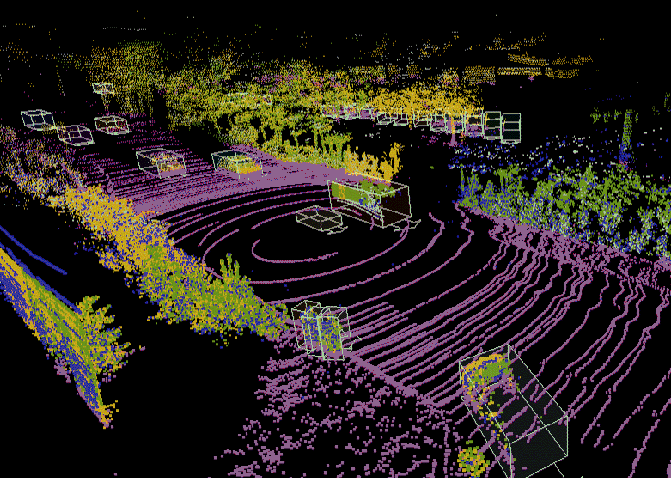 Being the most essential services for any autonomous vehicles, Lidar operates at a very high level of autonomy. Point cloud labelling is very crucial while utilizing deep learning algorithms as it requires the labelling of a massive amount of training data. Low resolution, sluggish performance, and complex annotation process makes Lidar point cloud data annotation very challenging.
However, annotation support comes to be a one-step solution for you. We perform 3D lidar annotation perfectly, accompanying our expertise in line annotation, image annotation and video annotation to create an excellent training data for machine learning algorithms.
In 3D Lidar Annotation, a 1 cm object can be annotated with 3D boxes by labelling the object at each point. Lidar sensors employ 3D point cloud annotation to detect any precise object and to make it recognizable in both outdoor and indoor environments. We make use of the right tools and technologies, enabling our experienced and trained workers to annotate any type of data.
3D LiDAR Annotation in Semantic Segmentation:
Point Cloud Semantic Segmentation is used to trace out the additional attributes of any object which can be detected by the perception models for learning process. This technique is highly efficient for self-driving cars as it helps the driver differentiate between different types of lanes in a 3D point cloud map. This differentiation will enable them to annotate the roads through a highly precise vision with 3D orientation for better and safe driving.
Point Cloud Annotation to Detect Objects with 3D Boxes:
The objects and tracks can be detected efficiently and precisely using the side of interest of our 3D bounding boxes of point cloud annotation. Our team of annotation support uses the 3D point cloud labelling tools, including the roll, yaw, pitch and heading angles. It will upgrade the level of your models by facilitating a much more effective labelling of different types of objects.
Lidars Point Cloud Annotation For Detecting Lanes:
Moving objects across multiple frames can be labelled rapidly by using the multi-frame to detect the road lane and track the objects. Semi-automated interactive annotation uses the fully customizable labelling process to annotate any 3D object in just one click. Our team will use tools such as linear interpolation and various other advanced annotation tools to make the labelling process much quicker. Our team also allows you to boost your annotation efficiency and achieve the highest quality by employing the workplace enhancements and intensity points.
Why us for outsourcing 3D LiDar Point Cloud Services?
We at annotation support combines machine learning with human intelligence to manage the most complex workflows related to data selection, annotation and model optimization. We can meet your demands of full-spectrum labelling using custom classes, dynamic labels and multiple attributes for a single instance. Our annotation team is experienced in working with point cloud data, 2D mapping, 3D object tracking and point cloud semantic segmentation. We at annotation support also strive to deliver the high quality and secure model validation and training data to assist the entire machine learning process.
Our service is highly preferred globally because of our multi-level quality checks. Before delivering any of the Lidar annotation programs, we process the program's quality using a combination of human judgement and automation in accordance with the baseline provided by you. Besides handling you with the training data, we also tend to provide all the deep insights related to your data. The annotation support team is working data and night to avail you with such a platform that can meet all your needs.